Hot Cams

As the leader in innovation, design and development of aftermarket dirt bike and ATV high-performance camshafts, a set of Hot Cams is certain to give the added boost that dirt bike and ATV enthusists are looking for. CNC crafted from billet steel and with multiple stages to choose from for many applications, Hot Cams delivers the performance
and feel of a custom cam for a fraction of the price. Ease of intallation is also a big benefi t when it comes to Hot Cams, as nearly all cams require no additional machine work and utilize the stock valve springs. And, as has always been the policy at Hot Cams, you can keep your original cams since a core exchange is never required.
---


Hot Cams Performance Camshafts
Designed, dyno proven and made in the USA, Hot Cams performance camshafts are one of the most
economical, reliable and easy to install ways to add a 5-10% power gain to dirt bikes or ATVs. Additionally,
every Hot Cams cam is:
CNC machined for an exact fi t and lobe profi le.
Created from 8620, billet, case-hardened steel.
Engineered by utilizing state-of-the-art valvetrain software.
Engineered to be drop-in cams that use stock valve springs
---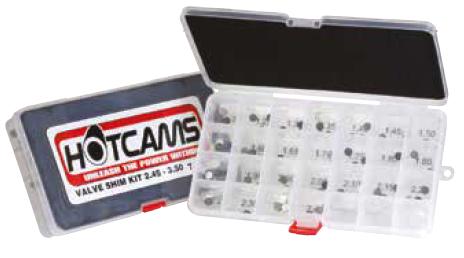 Hot Cams Shim Kits and Refi ll Packs
For value and convenience, Hot Cams shim kits are the perfect addition to any tool box, garage or shop. With complete kits for modern Japanese 250 and 450Fs, as well as the new 8.90mm shim for KTM bikes, these shims make valvetrain maintenance a snap.

Plus, for those with existing shim kits that might be running low, Hot Cams also offers shim refi ll packages to keep the kit complete and always at the ready.




---
Hot Cams Builder Series Cams and Gold Series Cams and Springs
The newest additions to the already impressive array
of Hot Cams performance camshafts are the Builder Series Cams. The
Builder Series Cams, like the standardline of cams, are rooted around ease
of installation and genuine, usable performance increases. However, these
cams take it a few steps further. The Builder Series and Gold Series cams are
aimed at enthusiasts and engine builders that are looking for the optimum in performance, fl exibility and reliability. More importantly, Gold Series cams are designed to compliment modifi ed engines using such things as big bore cylinders,
high compression pistons and performance exhausts. Additionally, many
applications will see a wide variety of cams to transform and tune your engine
to your specifi c needs. Whether it's endurocross or fl at track racing, there's a Gold Series or Builder Series cam to hone the powerband just as it's needed.
Unlike the standard Hot Cams, the Gold Series cams utilize the new line of Gold Series springs. These springs, crafted from premium quality Japanese spring steel,
allow for greater fl exibility in the cam design and ensure that the valvetrain will remain at its peak performance and trouble-free.
Simply stated, Hot Cams Builder Series and Gold
Online Installation Videos and Dyno Charts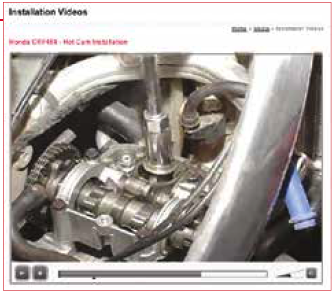 Need a little brushing up on how to install cams or just curious what all is involved in doing so? From removing that fi rst bolt to breaking in newly installed cams, Hot Cams has free, detailed, step by step videos available online at hotcamsinc.com.
Also online, is an extensive library of Hot Cams dyno charts so you can see exactly where the power gains are coming from and what Hot Cam is best for you.