Hot Rods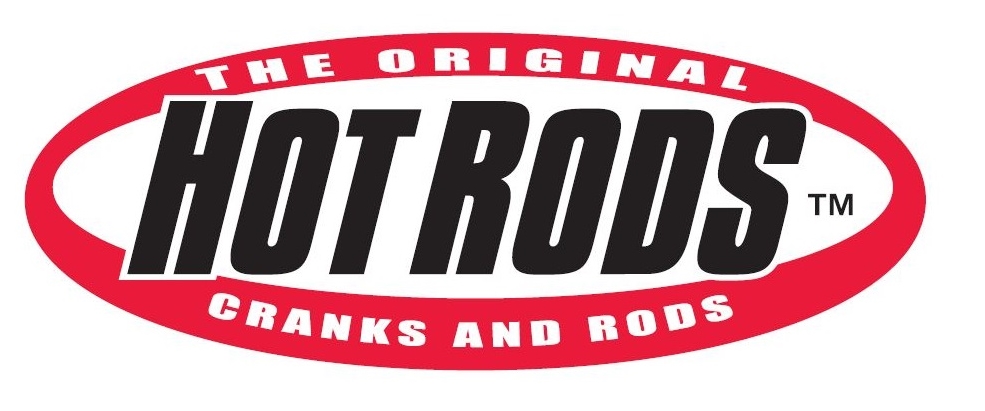 Hot Rods, the "Original Cranks and Rods," has been making the best aftermarket crankshafts and connecting rods for over a decade. Customers have come to recognize that there is no substitute for the quality of Hot Rods products. Moreover, all Hot Rods cranks and rods can be had for considerably less money than OEM, but without any sacrifi ce to quality. And, for those dirt bike and ATV riders seeking added performance from their mount, Hot Rods offers a full line of stroker crankshafts. These cranks will not only provide the power that riders seek, but do so without additional machine work or spacer plates — and most utilize the stock piston.
Hot Rods Connecting Rods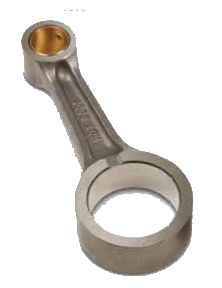 One single connecting rod is where it all began for Hot Rods and, now, with over a decade of experience, continously improved designs and an ever expanding line of applications; Hot Rods has continued to be, not only "The Original" aftermarket replacement rod, but the best aftermarket replacement rod. All of our rods are created from 8620 case hardened steel. But, in addition to that, our rods also undergo a process of double forging which helps to improve grain fl ow as well as dimensional consistency — and that means a rod of uncompromising strength. To improve fatigue durability, all of our rods are also shot peened. This process, utilizing a stainless steel shot, helps to remove stress risers and creates more smoothly blended radiuses. And, in the end, a Hot Rods connecting rod is one of the most durable rods that enthusiasts and engine builders can buy. However, a rod is only as good as its supporting parts and that's why a Hot Rods kit features only the most advanced and durable bearings, crank pins and thrust washers. Case hardened, silver coated, fl at profi le KU bearings are used throughout our entire line and high-quality, long
shouldered KZ bearings are used in our twostroke wrist pin bearing applications. In short, our bearings are just as tough and reliable as our rods.
Even our crank pins are subjected to the same rigorous standards as our rods and bearings. Each Hot Rods crank pin is created from hotrolled ASTM 4115 steel and case-hardened to a level of 58–62 Rc.
Additional Hot Rods connecting rod features:
Double-honed bearing surfaces to provide a reliable, high RPM rod
Double-drilled small ends for increased lubrication
Bronze bushings in the small end of all four-stroke rods to maximize durability under high-loads.
Specially designed vent slots in the large end of all two-stroke rods for improved lubrication
Side scalloping on large end to minimize high RPM rod distortion
---
Hot Rods Crankshafts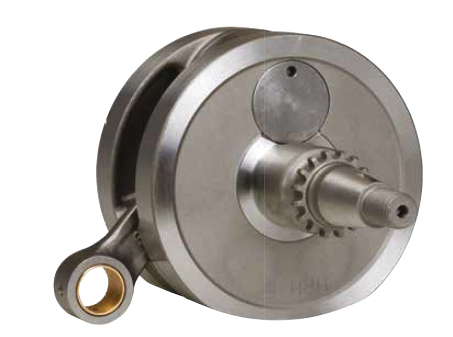 Building on the success of high-quality, OEM replacement rods, Hot Rods introduced the perfect place to showcase them — in a Hot Rods OEM replacement crankshaft. Since that time, Hot Rods crankshafts have been regarded as the premier alternative to costly manufacturer cranks. But, in addition to being a cost effective alternative, Hot Rods crankshafts also bring a level of uncompromising quality, design and innovation not seen in its competitors.
One such innovation would be the Hot Rods line of drop-in stroker crankshafts. Not only do these stroker cranks bring about a heightened level of performance, but do so without costly case machining, custom cam chains and spacer plates. Better yet, many Hot Rods stroker cranks even utilize the engine's stock piston.
Additional Hot Rod CrankShaft Features:
All crankshafts are sold complete and ready for installation with the original proven Hot Rods Connecting Rods, top end bearings, and crankshaft webs
Factory assembled and trued to OEM specifi cations, Hot Rods Cranks will meet or surpass the OEM in performance and durability
Crankshafts are fully rebuildable with genuine Hot Rods connecting rods and bearings
Multi-cylinder applications are sold complete with main bearings (unless specifi ed otherwise).
Two and four-stroke applications available
---



Hot Rods Main Bearings and Seals
To compliment Hot Rods full line of OEM replacement and stroker crankshafts are Hot Rods complete main bearing and seal kits.
Like other Hot Rods products, these main bearing and seal kits are built to the highest quality standards that meet or exceed
those of OEM. Additionally, not only will Hot Rods main bearing and seal kits work in rebuilding a Hot Rods crankshaft; but,
they also work in rebuilding OEM cranks as well.
---
New Hot Rods Waterpump Repair Kit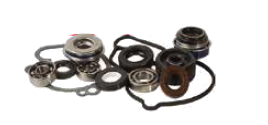 Furthering our ability of supplying everything needed for complete engine rebuilds is an entire line of water pump rebuild kits for dirt bike and ATV applications. These kits include everything needed to restore a blown water pump seal or worn out shaft bearing.